When enrolling a child at Clendon Park School we are required to sight originals of the following:
Your child's birth certificate or passport
Your child's immunisation certificate
It is a legal requirement of the Ministry of Education, that all enrolment forms are completed prior to enrolment.
If you have any questions, or want any additional information please contact the office on 267 6671 or office@clendonpark.school.nz
Enrolment Zone
Clendon Park School operates an enrolment zone.
Providing you are currently living within the home zone prior to enrolment you are entitled to enrol your child. The current home zone is described as is bounded by: - Browns Road, Russell Road, Swallow Drive, Wordsworth Road, Roscommon Road and back up to Browns Road.
A map of the zone is below to help you determine whether they are living in the school zone or not.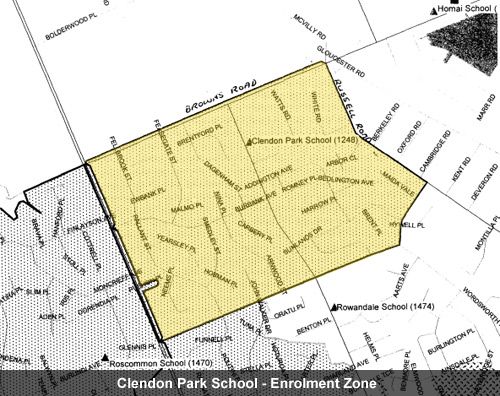 Entrance Level Enrolment
Enrolling a 5 year old
When enrolling a child turning 5, we encourage preschool visits to help get your child familiar with school. These are normally done on Wednesday's, 9:00 - 10:00am, for 2-3 weeks before your child is going to start school.
A parent or adult guardian is required to stay with your child at all times during their preschool visit.