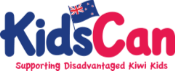 Our school is very fortunate to be participating in the KidsCan Programmes. We have been the recipient of many wonderful items of clothing such as raincoats, shoes, food, etc to help our students and their families.
KidsCan's mission is to provide food and clothing and basic healthcare in schools to enable children to reach their full potential.
Hungry, wet, cold and stressed is no way to start the school day (if it doesn't stop them from getting to school) but for 260,000 kiwi children living in hardship that is the reality. This can impact their educational growth and lead to a lifelong pattern of under- achievement. There is a way to break this cycle; by providing simple things like food, shoes, socks and raincoats, kids can arrive at school ready and able to learn. Their aim is prevent children in hardship from becoming adults in hardship by giving them the start in life they deserve.
KidsCan works with children at primary school level and supports them for as long as they need it, right through high school in some cases. They focus on three core areas: food, clothing and health. They are sponsored by businesses, government, community and Individuals. There is never any cost to the school.