What is Kiwi Can?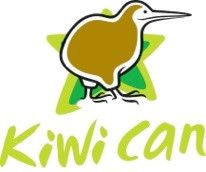 Kiwi Can is the Foundation for Youth Development's primary and intermediate school programme, it teaches essential life skills and values like resilience, respect, integrity and manners in schools all around the country.
It's a whole school programme with all children attending a Kiwi Can lesson once a week, every week of the school year. Specially trained Kiwi Can Leaders work in pairs delivering the high energy, interactive and, most importantly, fun lessons and are awesome role models for the kids to look up to.
Kiwi Can has a history of making a difference.
But the proof is in the research, and here is what it shows. Kiwi Can:
Engages students
Reduces truancy
Improves listening and communication skills
Helps children play cooperatively and resolve behavioural issues more easily
Builds confidence
Reduces bullying in schools
The programme aims to equip young New Zealanders with:
A sense of self-worth and self-confidence
The ability to take responsibility and be accountable for actions
Valuable life skills
A 'can do' attitude to the challenges of life
What are the Kiwi Can Themes and Modules being taught?
Positive Relationships – Positive Communication, Co-operation, Friendship, Fairness and Fairplay, Leadership, Conflict Resolution
Integrity – Honesty, Responsibility, Reliability, Making good choices, Being a role model, Accountability
Resilience – Understanding Emotions, Self Control/Discipline, Dealing with Challenges, Goal Setting, Problem Solving, Perseverance
Respect – For ourselves, Respectful communication, For Others, For our School, For our community, For our Environment
For more information about Kiwi Can go to www.kiwican.org.nz